Copyright
NG Copyright

Powered by:


Special thanks go out to:


© 2009 MC Inc.
© 2009 Emmanuel Edwards (Forum & Design)
© 2009 Michael Woodham (Information)
© 2009 Zak Cvitkovic (Graphics)


GENERAL INFO
Name
: Kurokon Shikyo
Age
: 25
Height
: 7ft
Weight
: 250 lbs
Ninja ID
: 5468-817W-GI9F-0OPL
Village
: Time
Rank
: Kage
Element:
Lightning, Water
Occupation
: kage
BIO:
In actuallity he was a very bright kid. He was known for having stranges red eyes with commas in them three in each eye and they never went away.. However he never had a sensei that actually taught him more than chakra control. Until he became a gennin at least, then his sensei acted more of a father towards Him than a sensei, but he was still happy.
On his first C ranked mission he was to capture two missing ninja, who turned out to be ten instead of two, who killed his team, including his sensei while making him watch. He Then awoke his bloodline and somehow managed to go to his bloodline's fullest power, killing all the missing ninja and disenagrating their bodies, along with his team's.
When he finally managed to calm down, he went back to village and entered the hospital who turned him away, but he then went to The time kage with a broken arm, chakra exhaustion. He got paid for the mission and the kage took him to hte hospital and healed him.
He became chuunin automaticly because he couldnt take the chuunin exams without a team. He was becoming very powerful and learning jutsu in hte blink of an eye, even creating some of his own but he never truly used them. He was being trained by the time kage himself and was becoming more powerful everyday.
He was eventually recruited into ANBU and in three years he was captian of the top team. He quit because the constant missions were taxing on his training. He rose to the top of the jounin and the time kage was becoming too old to do his post. He was voted to be time kage by the council. He was one of the first kages with free time, because he used Shadow clones to do the paperwork and to keep an eye on the village.
He became known all across the world as the God of fire, but also as the Book writer from god, because, like jiraiya 50 years ago, he wrote perverted books.
Description
: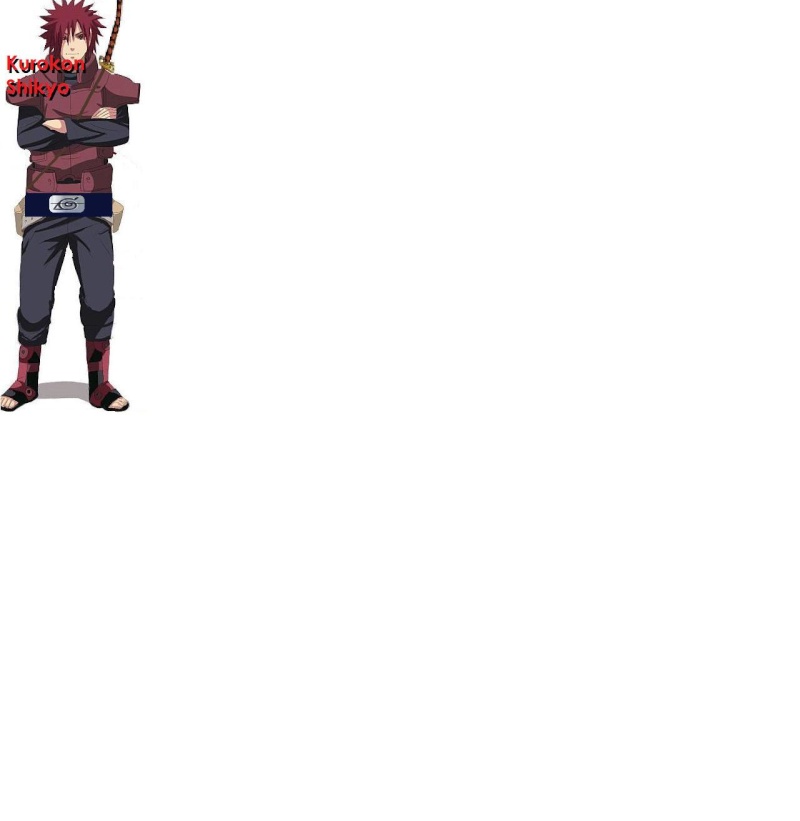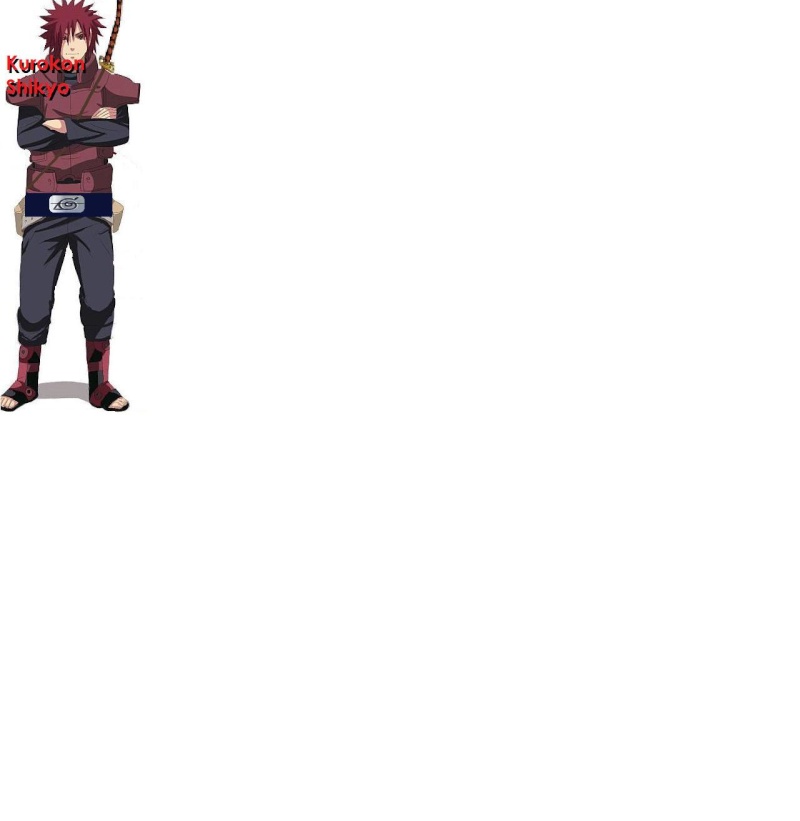 Personality
: He is realitively nice and calm. He has been said to be a pure soul before. He also has helped many people even before he was a ninja.
OTHER INFO
Family
: Sarai Shikyo (deceased) Kaigen Shikyo (brother)
Sensei
: Sarai Shikyo (deceased)
Students
: None yet
Team
: Kaigen Shikyo
Weaknesses
: He tends to get people angry easily, and his body is small, making it harder for him to control his muscles, as he tends to punch too hard and fall into it and jump too hard going to high causing nauseam which is why he tends to use genjutsu and ninjutsu more
Strengths
: He is very intelligent, and he may look weak but his body is extremely fit making him expectedly strong and fast. He has been known to be as strong as the legendary tsunade, without chakra.
Jutsu
:
hiraishin
Lightning Clone Jutsu
Shunshin
Camouflage Concealment Technique
Shadow Shuriken
Summoning
Impure World Resurrection
Rasengan
Water Clone Jutsu
Multi Shadow clone
Fire Dragon Flame Missle
Fire Dragon Missle
Phoenix Fire
Great Fire Dragon
Fire Rasengan
Great Breakthrough
Wind Rasengan
Rasenshuriken
Mist Technique
Water Prison
Exploding Water Colliding Wave
Body Flame
Chidori
Chidori Current
Chidori Senbon
Flapping Chidori
Bloodline
: Shikyo
RP Sample
: Ikatsu blinked as she kissed him. This was one thing he had never expected, but he suposed it was just a thank you kiss, but then why was she blushing and looking down? He pondered this for several seconds before giving into the idea she did it for no appearent reason.He too was blushing, not just because she kissed him but because he caught a glimpse of her underwear when she turned. He shook himself of the thought, or at least tried to but the image stayed in his head, just as the blush stayed on his face.He glanced at her smiling, he walked to the other side to see her face again. "why'd... you do that?" He asked calmly, even with the insane crimson blush on his face.
Last edited by Kurokon Shikyo on Sat Nov 21, 2009 1:14 pm; edited 2 times in total
Member





Posts

: 7


Ninja Rep

: 0


Join date

: 2009-11-15


Age

: 23


Location

: Classified




Similar topics
Sorry if im not allowed to post here, but how can he use Flapping Chidori, or for that matter, use any of the chidori moves at all.

---
Permissions in this forum:
You
cannot
reply to topics in this forum