Copyright
NG Copyright

Powered by:


Special thanks go out to:


© 2009 MC Inc.
© 2009 Emmanuel Edwards (Forum & Design)
© 2009 Michael Woodham (Information)
© 2009 Zak Cvitkovic (Graphics)


GENERAL INFO
Name
: Hisa Hosokoawa [[He-suh, Hoe-so-cow-uh]]
Age
: 10
Height
: 4' 2"
Weight
: 82 lbs.
Ninja ID
: 1317-569A-BV8D-9EFY
Village
: Kirigakure no Sato
Rank
: Academy Student
Element
: Water
Ninja Type
: Support
Occupation
: Shinobi Student
BIO
Description
: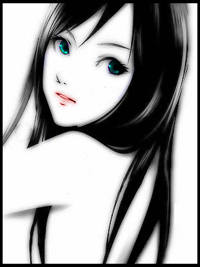 Hisa is an adorable little girl, ten years of age. She has ebony colored hair which is kept about shoulder-length in the back, with bangs that frame her heart-shaped face. Her skin is pale and flawless, not yet marked by scars of battle or blemishes that come with going through puberty. Her eyes are big and wide, with a bright blue colored iris. She is still young and tiny, but she doesn't seem to have too much baby fat. She is a cute, little girl, only around four foot two inches tall, and skinny as a twig. Aiko likes wearing kimonos, but her mom usually just dresses her in a blouse and skirt. Aiko is constantly smiling, a white-toothed smile that is missing no teeth. She wears brightly colored slippers and stockings which come up to her knees, which are generally white in color. Aiko has no scars or birthmark, but she does have an odd mark on the left side of her ribcage. It looks almost like a brand, in the shape of a musical note.
Personality
:
Hisa is a cheerful girl. She seems quite content with life, seeing as how she is stuck with it for an eternity. She has no real grasp of the concept of sensors, and cheerfully says anything and everything that comes to mind when it comes to mind. She is an innocent girl, and doesn't seem to understand topics that involve morbid or perverse material. She has no idea what makes the older kids laugh when someone makes a dirty joke or says a profanity, and doesn't seem to be willing to understand though she has been explained what the jokes mean several times. It seems she is determined to keep her blissful ignorance for as long as possible, and when she is determined to do something she almost always succeeds. Hisa is a good friend, despite her habitual talkativeness and lack of a sensor. She has empathy, and she is supportive of anything her friends do. She is always there to try and cheer them up, or at least give them a hug and tell them to keep their chin up. Though most would think Hisa immature or stupid, she is neither of those things. She has a developed sense of the meaning of life and where she belongs, and an extensive vocabulary that never
ceases to amaze adults who talk to her.
OTHER INFO
Family
:
Sensei
:
Students
:
Team
:
Weaknesses
:
Strengths
:
Jutsu
:


[url= ]{Jutsu Name}[/url]

Bloodline
:
RP Sample
:
Member





Posts

: 1


Ninja Rep

: 0


Join date

: 2009-11-22




---
Permissions in this forum:
You
cannot
reply to topics in this forum